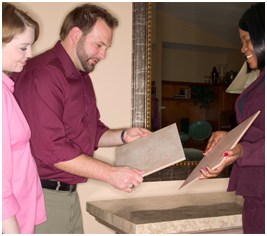 Tile Remodeling
Having outdated fixtures and wallpaper is one thing, but outdated tiles can put a real damper on your style. Bathroom and kitchen tile remodeling and renovations are a must when you want to rescue tragically outdated tiles from their misery and bring them into the present day. Whether you want to breathe new life into your room or start from scratch, tile installation is a fantastic way to your home's overall style over the top! There are several ways to remodel your current tiles situation:
Refinishing/Seal
The first question to ask is: Do these tiles really need to be replaced? If they are in good condition there may be a better way to get the look you want by refinishing/Seal your existing tiles. You can save a great deal of money by doing it yourself, but be warned….it is a fairly complicated process. MVP Builders can handle this task for you. By using tried and true techniques we can remove the finish and color, apply the new color or design and refinish/seal to give your old outdated tiles new purpose and style that fits your vision.
Re-grout Old Tiles
Sometimes the tiles are in good condition, but the surrounding grout is breaking down. This breakdown not only makes the tile installation look bad, but it also leaves your structure vulnerable to mold mildew and damage to the tile itself. Over time, the grout between the tiles can start to chip away and crumble. Re-grouting tile is one of the most inexpensive ways to renovate a bathroom or kitchen, but it can be painstakingly slow if you do it yourself. When you do a job like this yourself, you also run the risk of damaging the tiles while chipping out the old grout. It is best to leave tasks like this to a company like MVP Builders. Our technicians are specially trained to get the job done quickly with incredible results.
Tile Removal
Tile isn't always the answer for remodeling a room. Depending on the style and them you are attempting, tile may clash and not offer any improvement. While it may seem cheaper and easier to remove the tile yourself, it can be a more involved process than you think. If done by an amateur, tile removal can cause serious damage to walls and counter structures. Remember, when these were installed, they were built to last. MVP Builders will carefully remove existing tile, making sure that the integrity of your home and its structure is maintained. We can remove the tile and haul it away, out of sight and out of mind.
We love tile, and it shows. Many customers are surprise what a difference tile makes in their homes. It adds a wonderful texture and luster to the homes overall interior. It can invoke a feeling of classic old world charm, or give a clean and very modern feel. Let us meet with you and show you the wonders and benefits of tile installation. We can create back-splashes for the kitchen; tile counter tops, shower, tubs and flooring….you envision it and we can make it happen.