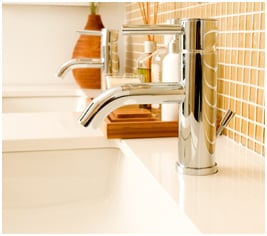 Often homeowners have trouble envisioning what their bathroom should look like. Should it just be functional for you and your family or should your bathroom be stylish and fun? MVP Builders is here to tell you that your bathroom can be both! We can help you add a touch of elegance to your bathroom, while maintaining the functionality and efficiency every modern household needs to run successfully. We only use the highest quality of materials and are up-to-date on all the current styling and design trends of today.
Needing to add on for your ever growing family? Our designers can help you map out a bathroom that will suit any sized household. Whether you need to add a second vanity or a new tub and shower combo, we can show you how to place your bathroom appliances to maximize your space to its fullest potential. A growing family needs room to move, and being limited by a small bathroom can pose many problems. Even by rearranging the current bathroom fixtures, you will see an immediate improvement. Now is the time to provide your guests with a bathroom that shows off your individuality as well as your impeccable taste.
Want to have your own personal spa in your house? MVP Builders can help convert your master bathroom into a retreat that would rival any day spa. Feel like you royalty when you step into your new bathroom, complete with a jet Jacuzzi tub, high quality commode and lavish vanity area. By combining utility with luxury, our designers will show you the endless possibilities for your bathroom. We can even build a bathroom from scratch! Turn your bedroom into a luxury master suite!
Being one of the most popular home improvement projects, remodeling your bathroom can do wonders for your home's overall look and overall worth. You may ask yourself how such a simple change can make a difference, but you would be surprised how much it does. Installing energy efficient appliances and accessories along with proper insulation and moisture protection can give your bathroom longevity, allowing it to serve you and your family for years to come. And as an added bonus, it can even save you money with your utility bills by having energy saving lighting, insulated walls, windows and doors and low flow water saving plumbing fixtures.
Don't let your budget and lack of imagination stop you from having the bathroom you want. Let your imagination run wild and show off your style! We will work closely with you to make sure that we find a bathroom design plan that will suit all your many needs and fit your current budget. Don't be hindered by a budget. We want to work with you to make you happy. Make your dreams a reality with expert service and brilliant design aesthetic. Whether it is installing tile flooring and counters, storage space, wood cabinetry or the state of the art plumbing, MVP Builders is standing by now to show you the way!