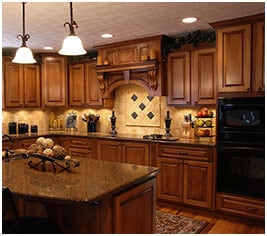 Because MVP Builders, Inc. realizes the kitchen is the core of many homes, we have made it our mission to provide homeowners with quality materials and exceptional features.  It is key features like custom cabinetry, cabinet refacing, center islands, moldings hardwood, ceramic tile, custom painting and lighting that can increase your kitchen's efficiency, style and worth.
Whether you are going for Classic American, Retro or Modern type designs, we are able to help you combine the latest trends with the most current state of the art building practices.  This combination is what sets MVP Builders ahead of the rest.  Our designers work closely with you to ensure you have a kitchen you will love to show off to family and friends.  Imagine a cool holiday morning with your family in your beautiful kitchen preparing an amazing meal; or throwing a fun dinner party with your closest friends.  We can make that kitchen dream a reality!
Installing custom cabinetry for appliances not only organizes the space, but it also maintains the stylistic flow of your kitchen.  We can install your new appliances either by altering the existing space, or creating an entirely new addition to your kitchen. We can install the electrical connections so that your kitchen island can house your appliances.  Want your kitchen island to be fully functional?  We can even connect it to a water source so that it will have running water. Need more storage space?  MVP Builders can create storage options like pantries, utility closets and laundry rooms.  Many homes are not equipped with a separate laundry room.  Make doing laundry seem not so tedious with a room that can house your appliances and have a counter for folding!  Everyone can use more storage space.  Our designers can not only make more storage space, but they can also show you how to maximize the space you currently have!
The lighting design experts at MVP Builders can help you set a mood in your kitchen and enhance all the elements of your kitchen.  Having adequate lighting in the kitchen is extremely important.  We can install dimmer switches, chandeliers and ceiling fans to give your kitchen the perfect touch of elegance and beauty while being 100% functional.  Not liking the design of your kitchen?  No worries.  MVP Builders will meet with you to get a sense of your style and help you find the fixtures, window treatments and color palette that displays your style.
With an exceptional level of customer service and attention to detail, we monitor every aspect of the job. From design, to installation to the finishing touches, no process is fully completed without your 100% satisfaction.
Contact us today and let us show you what your kitchen can be.  We can provide a written estimate that is based on your different needs, designs and budget.  Don't let remodeling your kitchen break the bank!  We work with your budget to ensure that all our customers can make their old kitchen feel brand new!